Photo: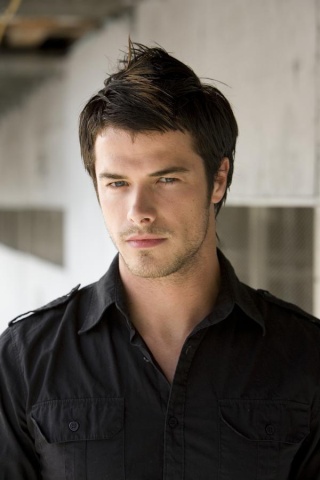 Name:
Benjamin Alonso
Nickname:
Ben
Birthday:
January 25, 1992
Horoscope:
Aquarius
Age:
27
Wand:
Rowan 12 inches, Unicorn hair
Parents:
Thomas and Andrea Alonso
Siblings:
Nathan (younger brother)
Blood Status:
Pureblood
Appearance:
He has dark brown hair, cut short usually. He has dark-blue eyes. He's rather tall, standing an impressive 6'1".
Clothing:
He tends to wear causal Muggle clothing as he feels they are comfortable to fly in.
Description:
Ben is smart, shy and pensive. He's also the nicest guy you'll ever meet; despite the fact that he was an International Quidditch star. He is a good friend but likes to keep to himself at times. Is usually seen with a small smile on his features.
In his spare time, other than flying, he enjoys taking pictures.
History:
Early Life
All young Ben ever wanted to do was play Quidditch professionally. His father brought him to his very first match when he was 5.
It was the Dawcor Dragons against the Corinthians. And a glorious match it was. It is still known today as one of Quidditch History's greatest games. It seemed that the Corinthians would win as they were leading – however, out of the blue, the Dragon's Seeker sped off. The crowd went wild. Did he see the Snitch? Or was it just a fluke? But a few seconds more, the crowd shouted louder, the Dragon's Seeker had caught the Snitch - catapulting the Dragons into everlasting fame and the title of Champion.
Ben knew from that moment on that he was going to play for the Dragons no matter what.
School Years

As he entered his Hogwarts years, he's most notable achievement was making the Ravenclaw Quidditch team in his second year. He played as a Chaser, beating out several others who wanted the position as well. He stayed on the team till his last year at Hogwarts, making Captain of the squad in his fifth year. His favourite classes during this time included Charms and Care of Magical Creatures.
He was an admirable Quidditch Player with a unique flare and incredible agility. He had a natural talent for the sport however; he didn't rest on his talent, he still trained harder than anyone else on the team. Ergo, before he even left Hogwarts, he was offered a place with Titans United. He kindly declined and commented that the team he'd always wanted to go for was the Dragons.
When the Manager for the Dragons heard this, he offered young Ben a spot – though, it was only for a reserve. He took the offer gladly, happy being a reserve for the Dragons with a chance of playing with them someday.
Playing for the Team
He didn't have to wait long, at age 19, he had his Dragons debut in a match against the Bodleian Basilisks. As Chaser, he ended up scoring five goals in his first game, quite a remarkable, making him a permanent member of the team.
His five goals was just a start however, soon he was the Dragon's new star scorer. Earning fans for his Quidditch skills and his amiable attitude off the pitch.
An Unfortunate Event
Ben's life seemed to be going remarkably well, that is until one night. During one summer night, when Ben was walking home, he was violently attacked by a werewolf. He survived but barely. Moreover, he contracted the disease. His manager decided to keep this a secret to everyone but Ben's closest family and himself for if anyone else knew about it, it would be the end of Ben's stardom and Quidditch career. Ben agreed but only because he didn't want to stop playing.
A Series of Unfortunate Events
Unfortunately, they had vastly underestimated his condition. Inexperienced and ignorant of the full extent his new alter ego, on the first night he turned, disaster ensued. He ended up attacking an innocent Muggle Village and worst yet, mutilating a young Auror to the point of forcing her into early retirement. The Auror was considerate and kind enough not to press charges, though Ben was very hard on himself. He wanted to get locked up. However, his manager stirred him away from that line of thought, as he was still a remarkable Quidditch Player. He took the Wolfsbane Potion that the ministry enforced on him every month gladly.
He thought that his life was about to return to normal, well as normal as it was going to be as a werewolf. However, he thought wrong. While he was touring with the team for the League, an incident ended in breaking his vial of Wolfsbane potion. It was a full moon that night and he had no time to brew another – nor could he get any from where he was at. Thinking quickly, he found an old abandoned house nearby and figured he would past the night there.
The next thing he remembered was waking up before dawn in some sort of field. It seemed like a hurricane past by. Blood and debris were everywhere. He found the body of Jessica – his long time girlfriend and fiancée – nearby, bloody, beaten and barely breathing. It didn't take a genius to figure out what happened. He brought her to the hospital as fast as he could.
She survived, but barely. Their relationship was not so lucky. The attack left her scarred. As she was a model this too ended her career forever. She told him that she never wanted to see him again and if he never showed himself, she wouldn't press charges. Thanks to the quick work of his manager, the manner of his condition was still kept secret. But he knew he was not going to take another chance. He never forgave himself for what he did. He quit the League and decided to live in an abandoned area alone.
Relationships:
None at the moment, not after what happened to Jessica.
Pet(s):
An owl, named Cadmus.
Skills:
He is a very skilled Quidditch Player
He also happens to be a werewolf
Animagus Form:
None, is a werewolf
Patronus Form:
A wolf
Favourite colour:
Green and Black, and Blue
Favourite Quidditch Team:
The Dawcor Dragons
Favourite Quidditch Player:
He's rather fond of the members of his team
Favourite song(s):
Call Me When You're Sober
Other Pictures: